"Nobody Cares" – The New Book From Safetyman Is Here!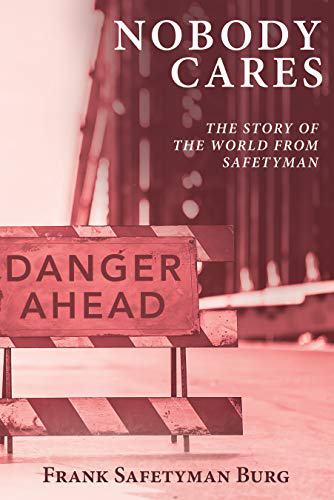 These are the stories of the life of the safetyman. It is a book about the field and the science of safety, but it also is a book about the life, trials, and tribulations of a person who has been dedicated to safety and health. Every single person living in our complex and dangerous world must be a safetyman or a safety woman to avoid obstacles and dangers that will be life changing. We are all up against danger every single day, perhaps every single moment, and the idea is that the information and examples provided from my experience can be the difference between life and death. The simplest task of getting your mail, using a stool to change an energized light bulb, or pulling leaves out of your gutter can put your life, family, and your financial security in jeopardy. Reading this book should make you think about what you are going to do before you act. Many people believe that they are what we call "bullet proof.". This is a common phrase in the safety profession. It means that they haven't sustained a serious injury, so they don't expect it to happen to them. They have yet to take a bullet and don't expect to take a bullet. Because they have never sustained a serious injury, they believe that it will never happen to them, or even if it does happen to them, they believe that they will just heal and come back as good as ever. It is only through years of living and experience that we learn that a single solitary event, a single second of carelessness, or just being at the wrong place at the wrong time can have life-changing consequences. The safety and health problems are complicated, involving the complex interaction between the physical world, acts of men and women, and human behavior. This interaction requires study and evaluation from the perspective of understanding the potential hazards and evaluating and testing feasible and reasonable interventions. You have to take care of yourself, but you also will need professionals to develop and design products and services that keep your safety and health in mind. Many people think that looking out for yourself will solve the problems, but everywhere you go, there are situations where some professional engineer, architect, or service person is thinking about safety or ignoring it. Each day that you are alive, you are at serious risk, as are the people that you love. You will need to take action to plan and organize your activities to keep yourself and the ones you love alive and protected. This book will be a guide to survival in a hostile world of hazards.
Purchase It Here!
Home
We are former OSHA Compliance Officers and MSHA Inspectors, OSHA National Training Institute Instructors, Curriculum and Course Coordinators. as well as, Engineers and Certified Safety Professionals (CSP's). We are in our 16th year of offering the highest quality professional services at a reasonable cost.
OSHA 10-30 Training Program Downloads
Our training course downloads make your training job easy! Our easy to use PowerPoint presentations cover the topics you need most. Whether you are conducting an OSHA 10 or 30 hour outreach course for construction or general industry, we have you covered! Learn More...
About Accident Prevention Corporation (APC)
Accident Prevention Corporation (APC) specializes in safety education, OSHA style safety audits, safety program review and development, loss control analysis, and cost control techniques. We are experts in occupational health and safety for general industry and construction, behavior-based safety, ergonomics, and environmental topics.